Julianna Sobrino/Jim Cooper
 —  —
Michigan Wine Co. Anniversary
 —  —
Playing solo vibes, food and wine.
Jim Cooper Trio with special guest: Dede Sampaio
 —  —
A concert of mostly Brazilian music.
PRIVATE LESSONS IN JAZZ VIBES OR IMPROVISATION ARE AVAILABLE VIA ZOOM.  IF INTERESTED, PLEASE CONTACT ME VIA EMAIL.
---
---
 CLINICS
(high schools, colleges and the community) 
1.  "JAZZ VIBES IN A NUTSHELL"
       Topics include:
Getting a good sound, mallet selection
Sticking
Pedaling and dampening 
4 mallet jazz voicings
Jazz improvisation tips
Comping
Arrange a vibes part from a big band chart
handouts are available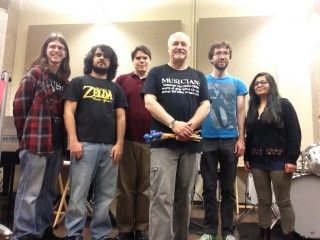 vibes clinic at University of Wisconsin/Parkside
Dave Bayles, Director
  2.  "A MELODIC APPROACH TO JAZZ IMPROVISATION" (For all instruments)
 Embellishing the melody 
 Analyzing the melody for essential notes, rhythms, fragments
 Transposing fragments
 Modes of the major scale, continuous scales exercise
 Listening to the greats and to each other 
 Performance and Practice Tips
handout is available
3.  JAZZ COMBO/BIG BAND WORKSHOP

Jim rehearses/performs with you school combo or big band.
Topics include group interaction, listening, improvisation, arranging, tune selection and more.
Original charts for combo are available.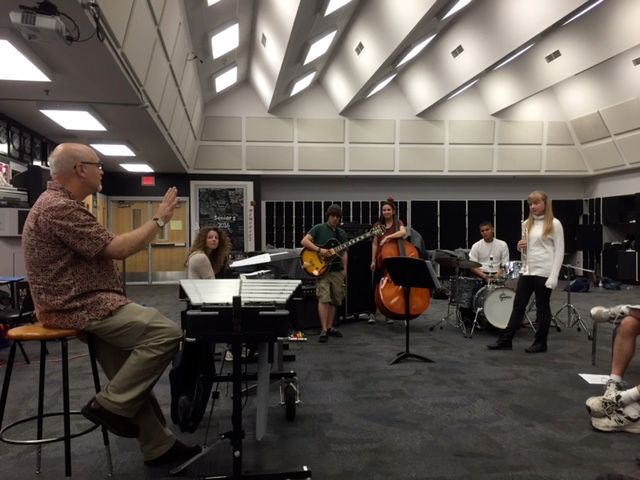 Combo clinic at Desert Mountain High School, Scottsdale, AZ, Michelle Irvin, Director
4.  GOOD VIBES:  A HISTORICAL LOOK AT THE JAZZ VIBRAPHONE
 Jim talks about the contributions and styles of Lionel Hampton, Milt Jackson Cal Tjader, Gary Burton and Bobby Hutcherson and performs songs from their recordings.  If there is internet access and projector,  YouTube clips can be played to enhance the presentation.
 "We enjoyed a warm jazz program on a bleak winter afternoon last February. Jim Cooper presented "Good Vibes" a historical tribute to jazz vibraphone players. Mr. Cooper, a jazz vibraphone player, interspersed video clips of the greats with a performance in each musicians' style.  This program was hit with our audience as it was musically entertaining and educationally stimulating."
 Martha Boetcher, Library Director, Saugatuck-Douglas District Library, March 8, 2011

  2017 South Suburban College Jazz Festival Clinician/Adjudicator and Performer
"Thank you for your wonderful clinic, Jim.  The students loved hearing you play. The information handout you gave out was informative. My students were really excited about the things you showed them.  They've been practicing like crazy ever since!!!"
Patricia Brumbaugh, West High School, Traverse City, Michigan
"You are the most organized mentor we've had in the program..."
Kewit-Wang Mentorship Program, Jazz Institute of Chicago
 JIM HAS GIVEN CLINICS AND WORKSHOPS AT THESE SELECTED SCHOOLS AND VENUES:
"A Melodic Approach to Improvising," Lake Michigan College
"Jazz Vibes in a Nutshell"," West and Central High Schools, Traverse City, MI
Adjudicator and Performer, South Suburban College, South Holland, IL
Northern Arizona University, Flagstaff, AZ
Aquinas College Jazz Camp, Grand Rapids, MI
Drum Fest, "Jazz Vibes in a Nutshell," Lake Michigan College, Benton Harbor, MI
Desert Mountain High School, Scottsdale, AZ, Jazz Improvisation 
Michigan State University, East Lansing, Vibes clinic
Elmhurst College, vibes clinic. IL
Cedarburg High School Percussion Camp, WI
Blue Lake Fine Arts Camp, performance, improvisation
Wisconsin Conservatory of Music
National Institute of the Arts, Taiwan, vibes and improvisation
Northern IL University
Hope College. MI
Cincinnati Conservatory. OH
Dunlap High School, IL
Sheboygan North HS. WI
Evanston Township HS, IL
Keewanee Area Jazz Band. MI
Maple Grove Elementary School, South Haven, MI, Kid Jazz
Saugatuck Center for the Arts, Saugatuck, MI
Calumet Art Center, MI
Box Factory for the Arts, MI
Holland Area Arts Council MI
Spring Lake Library, MI
Saugatuck/Douglas District Library MI
Sun Radius Music, Traverse City, MI
Lakeshore Jazz Connection, MI
  For information regarding fees and dates, email Jim at:jimcoopermusic@comcast.net
Jim completed his B.A. degree in Music Education (K-12) and Percussion from Northeastern Illinois University in Chicago and his M.M. degree majoring in Jazz Studies from Northern Illinois University.  From 2012 to 2015 he taught jazz vibraphone at Northwestern University. He currently teaches music classes at Lake Michigan College in Benton Harbor, MI.