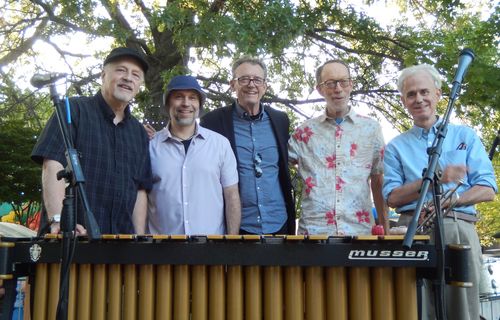 JIM COOPER & the JAZZ CONNECTION
Jim Cooper & the Jazz Connection is a new quintet, playing original music from Cooper, the legendary Ira Sullivan, Chicago pianist Bob Dogan and arrangements of jazz standards.  The Jazz Connection has versions, one from West Michigan and one from Chicago. The Chicago version performed last fall at the Jazz Showcase in Chicago and at the 2023 South Haven Jazz Festival.  Along with Cooper, the Chicago band features Art Davis on trumpet, Tom Vaistsas on piano, Dan Delorenzo on bass and Phil Gratteau on drums.
SOLO VIBRAPHONE & MARIMBA
Jim is in demand as a solo vibraphonist, performing in art galleries and libraries and at parties and concerts. 
"We enjoyed a warm jazz program on a bleak winter afternoon last February. Jim Cooper presented "Good Vibes" a historical tribute to jazz vibraphone players. Mr. Cooper, a jazz vibraphone player, interspersed video clips of the greats with a performance in each musicians' style.  This program was hit with our audience as it was musically entertaining and educationally stimulating."
 Martha Boetcher, Library Director, Saugatuck-Douglas District Library